Saturday, September 16, 2023
Join us for the 2023 Celebration of Light Gala, supporting Catholic Education in eastern Washington.
SUPPORTING CATHOLIC SCHOOLS IN EASTERN WASHINGTON
The Catholic intellectual tradition calls for the formation of the whole student—body, mind, and spirit. This tradition is grounded in gospel values that affirm the dignity of the human person and is aimed at building communities that inspire respect, responsibility and compassionate service.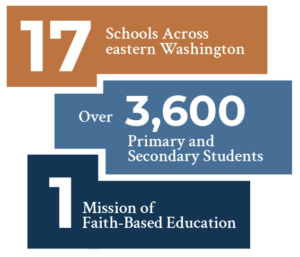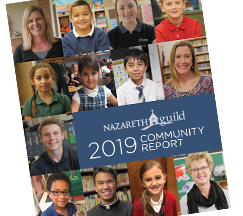 2019 Nazareth Guild Community Report
Support Catholic Education in eastern Washington
Your support helps Catholic K-12 schools in eastern Washington by providing tuition assistance to students with financial need, grants for special school programs and improvements, and ongoing organizational support.
Programs that make a difference
From our Tuition Assistance Program, to teacher enrichment grants to facility improvement projects, the Nazareth Guild offers a number of programs to help our children excel during their time in Catholic education. Learn more about these critically important support programs.
Partners in Catholic Education